Introduction
President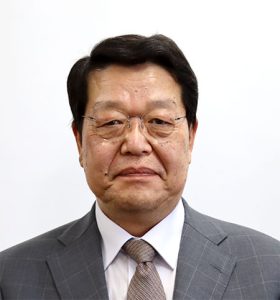 A Brief History of KOSEN (National Institute of Technology)
National Institute of Technology (KOSEN) were established during Japan's period of high economic growth to meet the demand from Japanese industry to produce engineers who could support the rapid expansion and development of industry. They have been designed to train graduates from junior high school to be practical engineers with five-year consistent educational programs which significantly differ from the high school-university school system. Graduates are awarded the title of associate.
KOSEN also offer two-year advanced courses,which follow the five-year program in order to provide a higher level of technical education. Based on their report work and examinations,graduates of advanced courses will be granted bachelor's degrees from the National Institution for Academic Degrees and University Evaluation.
At present,there are 57 KOSEN (national 51,public 3 and private 3) in Japan. In 2004,the institute of National Colleges of Technology was inaugurated to manage all national colleges of technology.
Features of KOSEN
The most significant feature of the education provided by KOSEN is the theoretical and practical foundation offered through the five-year consistent educational program. It consists of subjects which will provide students with broad knowledge for the development of their personalities,and engineering skills. Experimental learning is highly-valued,and students are given ample opportunities to carry out experiments and apply the concepts studied in classroom lectures. Many graduates work in fields of research,development,manufacturing,etc.,and the others choose to proceed to advanced courses at KOSEN or to transfer to other universities to continue studies in the fields of specialty.
Students in advanced courses are equipped with the consistent academic guidance following the five-year curriculum,PBL (Project-based learning) on practical engineering tasks,etc. toward practical engineers with cutting-edge skills and the ability to do research and development.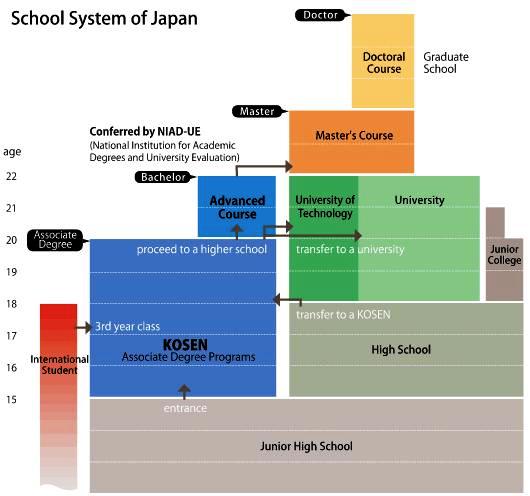 If you want any information about the acceptance of international students, please click here.
Educational Philosophy and Goals of National Institute of Technology, Nagaoka College
Educational Philosophy:
To train well-rounded, creative engineering students who are willing to explore and work for the future of mankind.
Educational Goals:
To develop engineering students with a sense of humanity and ethics so they will always consider the welfare of mankind and the global environment during their careers.
To provide engineering students with good communication skills and global views to help them understand diverse values and ideas.
To install in students healthy and creative attitudes to help them learn the fundamentals of science and technology through the early engineering.
To provide engineering students with engineering knowledge and monozukuri (manufacturing) skills so they can use information technology efficiently.
To provide engineering students with creative and systematic thinking abilities to enable them to solve problems and develop technology.
To develop engineering students with practical skills who can respond to the demands of the times through collaboration with local industries and communities.
To provide engineering students with positive attitudes toward learning so that they can develop and expand their own abilities.
Engineering Education Program
With a curriculum set in a seven-year educational program,which is composed of a five-year regular course and a two-year advanced course,the college has an engineering program which runs for four years, from the fourth grade of the regular course through to the upper grade of the advanced course.The program,entitled The Educational Program of Production Systems and Environmental Engineering,was established in April,2004.
The program consists of subjects for both fourth and fifth graders of the five departments in the regular course and for the advanced engineering students in three departments (Electrical & Mechanical Systems Engineering,Materials Engineering,and Civil Engineering). AII of the above-mentioned students are considered automatic participants in this program.
Moreover,this program was developed to meet the educational levels set by JABEE (The Japan Accreditation Board for Engineering Education) and was accredited in the field of General Engineering Programs by the organization in May,2006.
College Bulletin (Both Japanese and English)