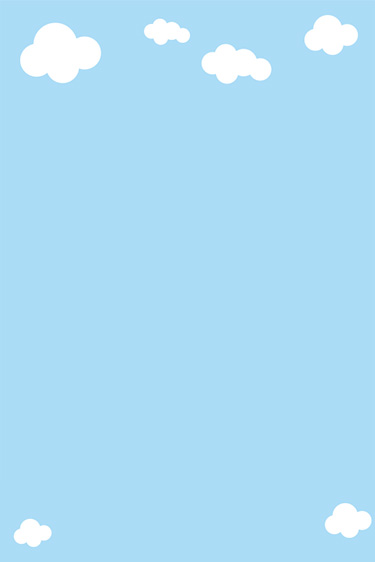 To the future global engineers
With the rapid development of transportation andcommunication, a large number of people, products, and information can be easily shared across national borders in recent years, and the world is becoming more integrated. Therefore, people who can play an active roleinternationally are required to have three abilities,"communication", "challenging spirit", and"understanding of different cultures". At National Institute of Technology, Nagaoka College hereafter called Nagaoka KOSEN, the Japanese students are learning the latest science and technology with the internationalstudents from Thailand, Mongolia, Malaysia, etc. We have also carried out the various exchange programs with thestudents from overseas partner institutions. So, why don't you study at Nagaoka KOSEN and connect to the world?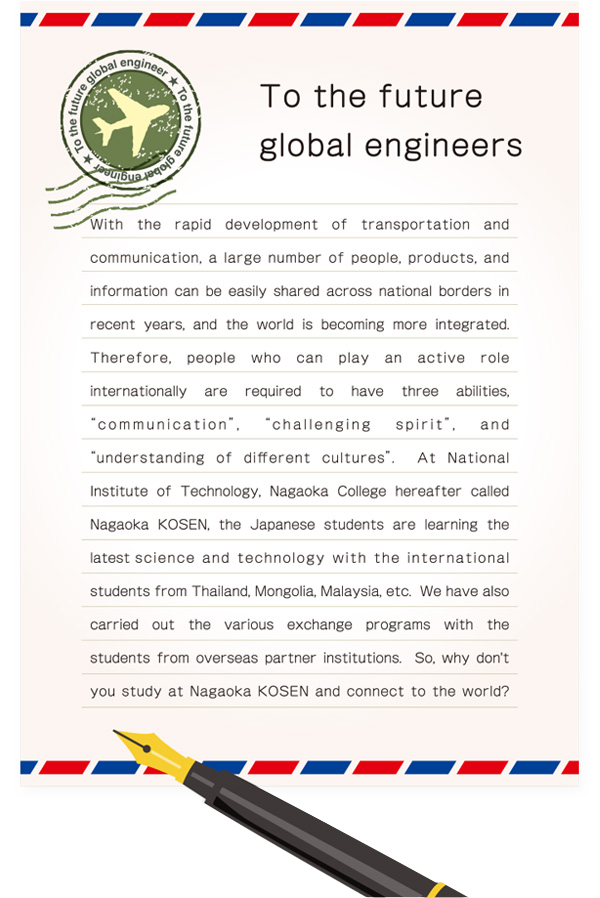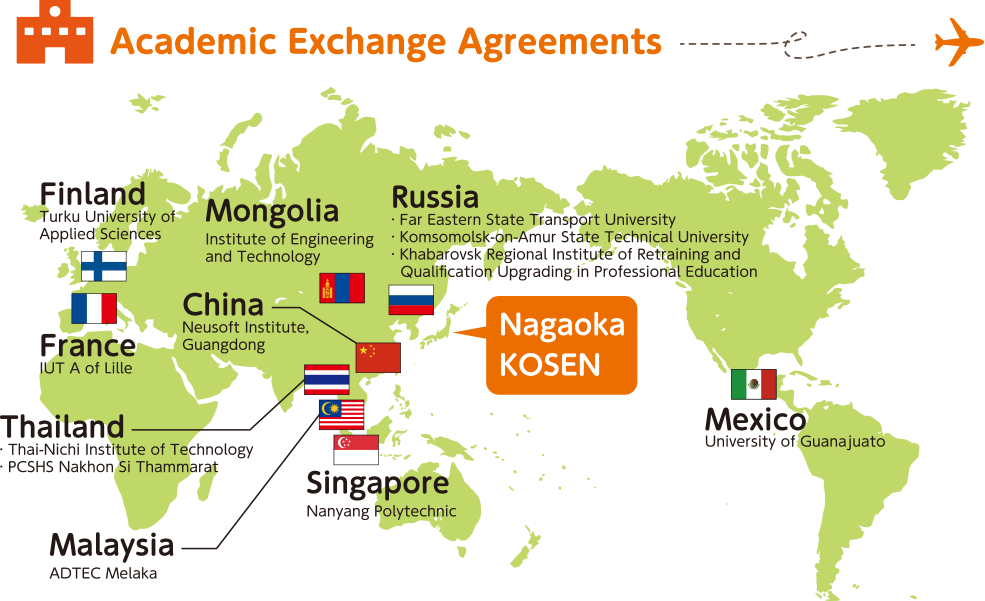 As you know, modern society is becoming more globalized, and there is a need to develop global human resources that can play an active role internationally. Nagaoka KOSEN actively interacts with many overseas partner institutions to improve communication skills, challenging spirit and cross-cultural understanding of the students, which are the three abilities required of the global human resources. In addition, there are many international students at our college, and we have an environment where you can communicate in English naturally. Let's learn the advanced technologies of various fields at Nagaoka KOSEN and connect with the world!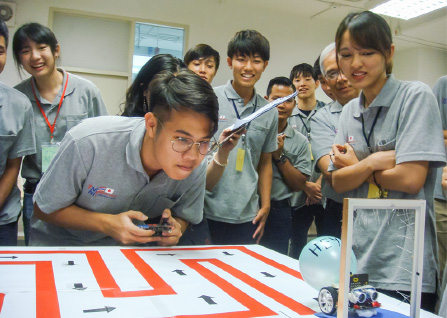 Nagaoka KOSEN has been conducting overseas training on engineering education in Thailand, Malaysia, Mongolia, Mexico, Russia, etc. for about 10 days. The students tried collaborative works in English, and visited local Japanese companies.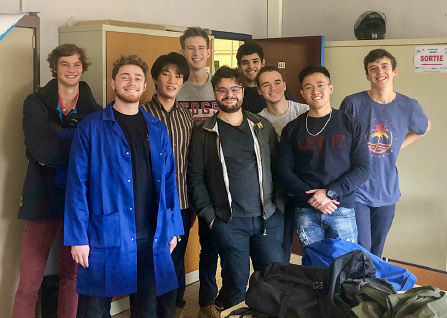 In 2019, one of our advanced course students had about 3 months training at IUT A of Lille in France. He carried out the research work on 3D printer and enjoyed the atmosphere of France by visiting various tourist spots with the local friends.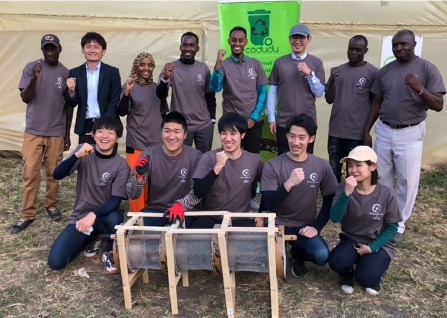 Aiming to realize a recycling society in Kenya, the students have been developing a feed sorting equipment in cooperation with local start-up companies. They formed a team in the spring of 2019 and performed a demonstration test in Kenya in July.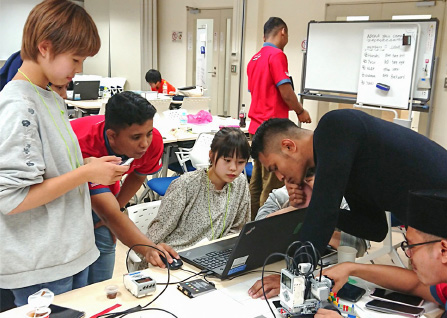 Before COVID-19, Nagaoka KOSEN had accepted the overseas students and staff of the partner institutions. We held a program-controlled bulldozer competition with Malaysian students. It was a great opportunity to cultivate a global mindset.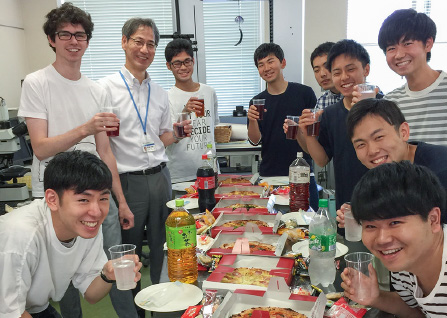 For about 3 months, the overseas students of the partner institutions belonged to the laboratories according to their specialized fields at Nagaoka KOSEN. They made earnest efforts for research activities with the Japanese students in English.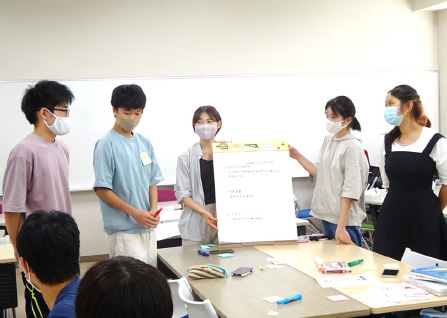 At Nagaoka KOSEN, Thai students have enrolled as first-year students and been studying with the Japanese students. By cooperating with each other through various school activities, they have acquired a global mindset right from the lower grades.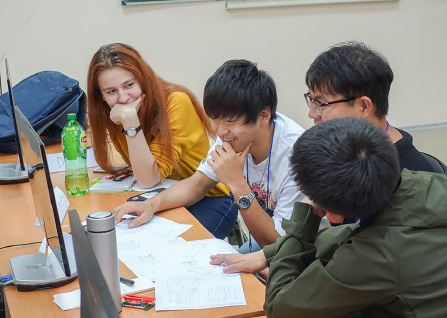 This program was created through a partnership among 3 universities and Nagaoka KOSEN, overseas partner institutions, and local companies in Nagaoka city. The objective of the program is to aspire to become vanguard engineers, through the process of tackling various problems.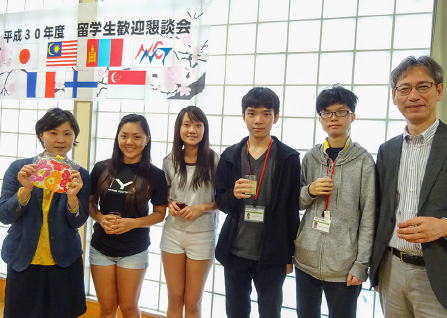 The international affairs center was established in 2009. The role of the international affairs center is to promote and develop an international exchange and cooperation with overseas educational institutions including universities through academic collaboration and student exchange programs.